Dear Editor
The novel Coronavirus Disease 2019 (COVID-19) pandemic has caused significant confusion in socioeconomic aspects of every individual globally. The researchers have highlighted the need for early detection and intervention against psychological ill-effect on various vulnerable groups of populations during this pandemic [
1
].
Mental health aspects of COVID-19
Drawing lessons from the past infectious disease outbreaks, researchers have already cautioned the public health practitioners and the policymakers of a "mental illness pandemic" possibility in the post-COVID world. Extended lockdown, prolonged isolation, economic crisis, lack of essential supplies, loss of loved ones, and stigma in the society are among many contributory factors for psychological upset of an individual [
2
]. Prolonged and overwhelming psychological stress can lead to anxiety, insomnia, restlessness, depression, substance abuse, and even suicide. Researchers even warned about increased sexual abuse and intimate partner violence during lockdowns. Thus timely attention towards the possible mental health consequences could be life-saving for many at-risk individuals [
1
] with over 720,000 cases and 33,000 confirmed deaths reported to date. Such widespread outbreaks are associated with adverse mental health consequences. Keeping this in mind, existing literature on the COVID-19 outbreak pertinent to mental health was retrieved via a literature search of the PubMed database. Published articles were classified according to their overall themes and summarized. Preliminary evidence suggests that symptoms of anxiety and depression (16%-28%).
On what factors should mental health care providers focus?
Every mental health professional has many roles to play in the middle of this psychosocial crisis (
Table 1
).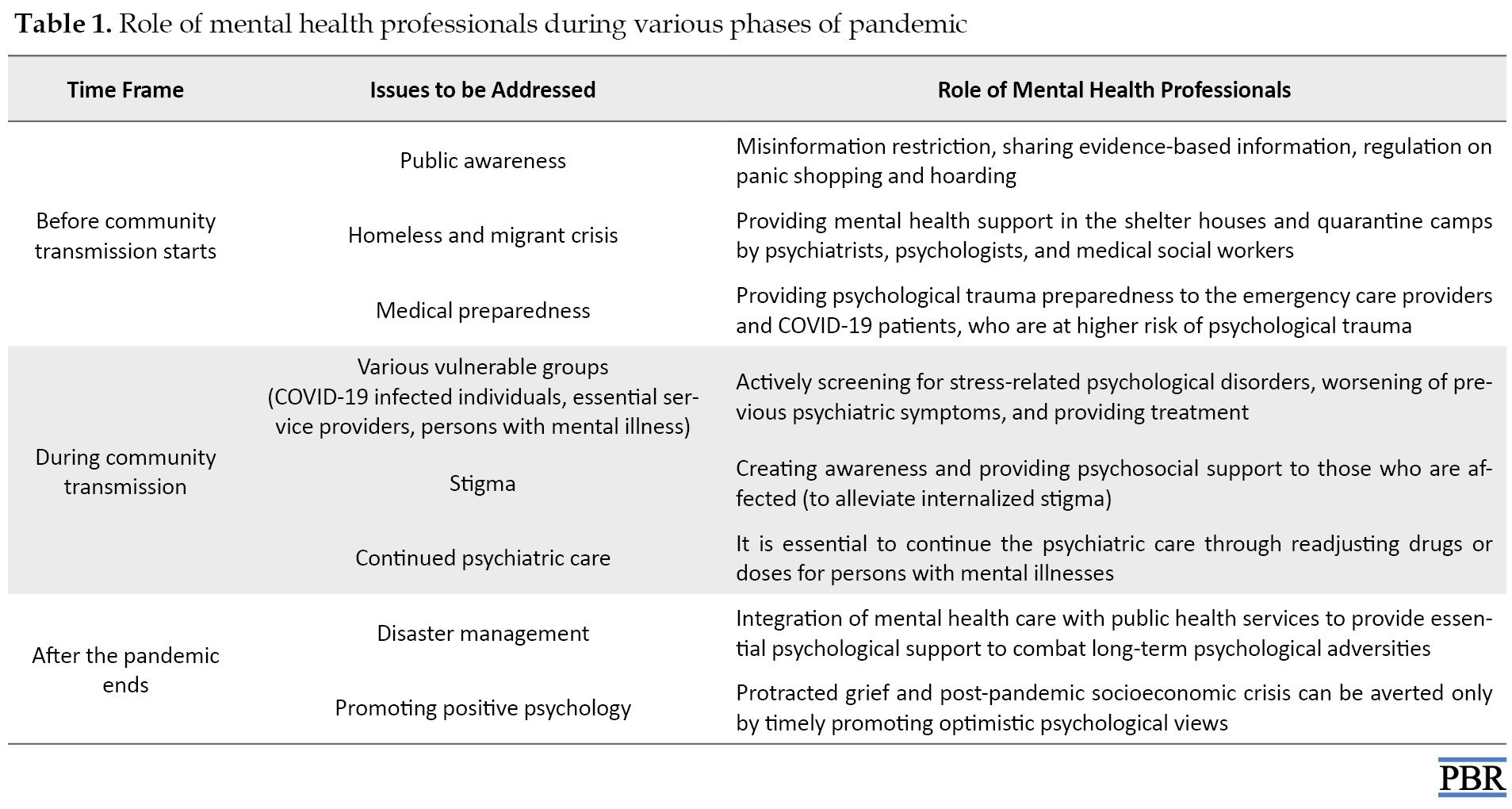 Mental health professionals need to take a leadership role in providing necessary interventions to the general public and specifically to the vulnerable groups (health care workers, elderly, persons with mental illness, persons with substance use disorders, homeless people, internally-displaced persons, and refugees) during various phases of the pandemic [
3
].
What are the possible solutions for the future?
In the absence of a vaccine, the disease spread is likely to continue for many months, if not years. In addition to actively addressing the mental health issues, the future health care delivery system may need a drastic reform with necessary physical distancing and minimal non-emergency hospital visits, so telemedicine or digital mental health-care services appear to be the first-hand solution for the future [
4
]. Also, there will be a need to ensure hygiene and self-care needs among persons with mental illness [
5
].
In summary, mental health needs during and after the pandemic are likely to increase exponentially. A physical distancing but social bonding with friends and family is what all those at COVID-19 infection risk need. Mental health professionals need to be ready with a positive and empathetic attitude towards suffering fellow human beings.
Ethical Considerations
Compliance with ethical guidelines
There were no ethical considerations to be considered in this research.
Funding
This research did not receive any grant from funding agencies in the public, commercial, or non-profit sectors.
Authors' contributions
All authors equally contributed to preparing this article.
Conflict of interest
The authors declared no conflict of interest.
References