The FDA revised the emergency use authorizations (EUAs) for two monoclonal antibody (mAb) treatments for COVID-19—bamlanivimab-etesevimab (Lilly) and casirivimab-imdevimab (Regen-COV, Regeneron)—to limit their use in areas where the omicron variant is widely circulating.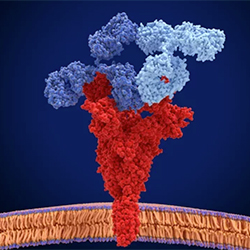 The treatments are highly unlikely to be active against the omicron variant, which is circulating throughout the country, the FDA said. Therefore, "these treatments are not authorized for use in any U.S. states, territories and jurisdictions at this time."
The National Institutes of Health COVID-19 Treatment Guidelines Panel recently recommended against using these mAbs.
As of Jan. 15, the CDC estimated the omicron variant of SARS-CoV-2 accounts for more than 99% of cases in the United States. "Therefore, it's highly unlikely that COVID-19 patients seeking care in
the U.S. at this time are infected with a variant other than omicron, and these treatments are not authorized to be used at this time. This avoids exposing patients to side effects, such as injection site reactions or allergic reactions, which can be potentially serious, from specific treatment agents that are not expected to provide benefit to patients who have been infected with or exposed to the omicron variant," Patricia Cavazzoni, MD, the director of the FDA's Center for Drug Evaluation and Research, said in a statement.
If the situation changes and a different variant is circulating that is susceptible, then use of these treatments may be authorized in these areas, the FDA said.
Regeneron said it was working to make a next-generation antibody that is active against omicron, delta and other variants of concern.
Monoclonal antibodies are laboratory-made proteins that mimic the immune system's ability to fight off harmful pathogens.
The FDA said several other therapies are still useful for outpatient management of COVID-19 during the omicron surge, including the mAb sotrovimab (GSK). The agency recently expanded the use of remdesivir (Veklury, Gilead) to outpatient use and issued EUAs for two oral medications, nirmatrelvir-ritonavir (Paxlovid, Pfizer) and molnupiravir (Merck). They are authorized to treat patients with mild to moderate COVID-19 who are at high risk for progression to severe disease, including hospitalization or death.
COVID-19 daily case counts and hospitalizations are starting to go down, but deaths are starting to increase. Deaths usually lag behind case and hospitalization data. More than 864,203 people have died from COVID-19 in the United States.

https://www.pharmacypracticenews.com/Covid-19/Article/01-22/FDA-Limits-Use-of-Monoclonal-Antibodies-to-Treat-COVID-19-/65927